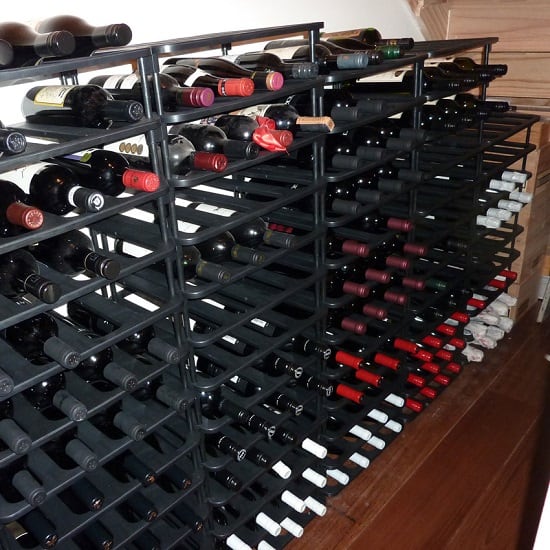 Our large wine racks are made of tough recycled ABS plastic so they are built to last and are good for the environment as well.
The ability to safely store large volumes of wine requires large wine racks capable of being modified, adapted and expanded as your needs grow.
Vinrac's tough and attractive modular wine racks are perfectly designed to cater to your requirements for bulk wine storage.
Who needs large wine racks?
Anyone who stores more than 240 bottles of wine needs a large wine holder system.
Retailers, wine cellars, commercial vineyards, and restaurants are obvious examples where high volume wine storage racks are necessary.
The increasing popularity of wine in Australia (Australians drink 70 million litres of wine each year) has led to more and more people building up extensive collections of wine in their homes.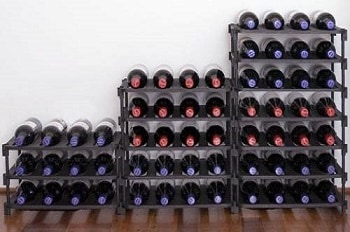 When you're looking for a safe way to store large quantities of your valuable wine you need to turn to a company you can trust.
Vinrac supply some of the best inexpensive large wine rack designs available.
Large wine rack design—what's special about Vinrac?
We designed our large modular wine rack around brilliantly simple modules that can be expanded, combined or rearranged to suit any size or shape space whilst still maintaining superior strength, functionality, and stylish visual appeal.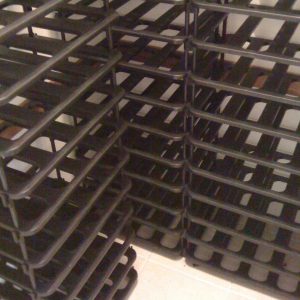 The Vinrac large wine rack includes some really important design features such as:
Versatility–one of the key principles we looked for in designing the Vinrac modular wine rack.
It's this flexibility that allows you to expand the wine rack to suit your needs for high volume wine storage. You can create any size storage units in multiples of twelve.
Compact, space saving design is perfect for storing large numbers of bottles without sacrificing critical space.
Clever bottle cradle design caters for most bottle sizes including most champagne bottles.
Horizontal storage of your wine prevents the corks from drying out and maintains your wine's superior qualities.
The modular nature of our wine racks allows you to configure the racks to fit awkward spaces.
This can be critical when space is at a premium and it also allows you to be creative in finding innovative solutions for your wine storage requirements.
Other advantages of our wine rack design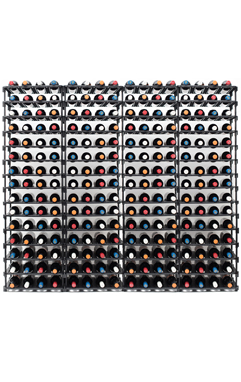 We also know the importance of providing real value for money. Our large wine holders are some of the best quality inexpensive wine racks available.
This leaves you free to invest more money in your valuable wine collection.
Oh, and our wine racks are so easy to install; no tools or professional tradesmen needed.
Because of the weight involved additional bracing is recommended for large wine racks but this too can be achieved easily and cheaply using screws and or metal bracing.
Our large wine racks are made of tough recycled ABS plastic so they are built to last and are good for the environment as well.
View some of the other Vinrac wine racks have options for smaller areas, mounted to an internal wall, under the stairs, or in a kitchen cupboard.