With winter fast approaching, we thought we'd share this wonderful Mulled Wine Recipe from Jamie Oliver.
Imagine this, you hand pick your favourite red that's conviently stored in your cellar, then cuddling up for the evening in front of an open fire with a glass of spicy mulled wine. If you're already a red wine lover, then don't be afraid to spice things up with this tasty recipe.
Jamie uses Chanti but feel free to use whatever wine you have available.
Enjoy!
Ingredients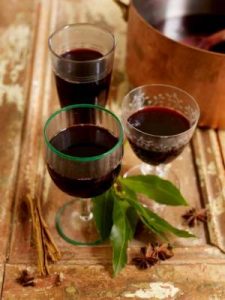 2 oranges
1 lemon
1 lime
200 g caster sugar
6 whole cloves
1 stick cinnamon
3 fresh bay leaves
1 whole nutmeg, for grating
1 vanilla pod, halved lengthways
2 star anise
2 bottles Chianti or other Italian red wine
Peel large sections of peel from your oranges,  lemon and lime using a speed peeler.
Put the sugar in a large saucepan over a medium heat, add the pieces of peel and squeeze in the orange juice.
Add the cloves, cinnamon stick, bay leaves and about 10 to 12 gratings of nutmeg.
Throw in your halved vanilla pod and stir in just enough red wine to cover the sugar. Let this simmer until the sugar has completely dissolved into the red wine and then bring to the boil.
Keep on a rolling boil for about 4 to 5 minutes, or until you've got a beautiful thick syrup. When your syrup is ready, turn the heat down to low and add your star anise and the rest of the wine.
Gently heat the wine and after around 5 minutes, when it's warm and delicious, ladle it into glasses and serve.