plastic  wine racks
Stylish, Modular and Elegant Design in any Modern Home or Cellar
The Modular Wine Rack by Vinrac has been designed in Australia to combine the advantages of a standard racking system capable of storing high volumes whilst allowing for a great deal of design.
The design approach for our Modular kits is to provide a storage system that subdivides into smaller parts, or modules which can then be built to suit any size or shape whilst still maintaining great functionality.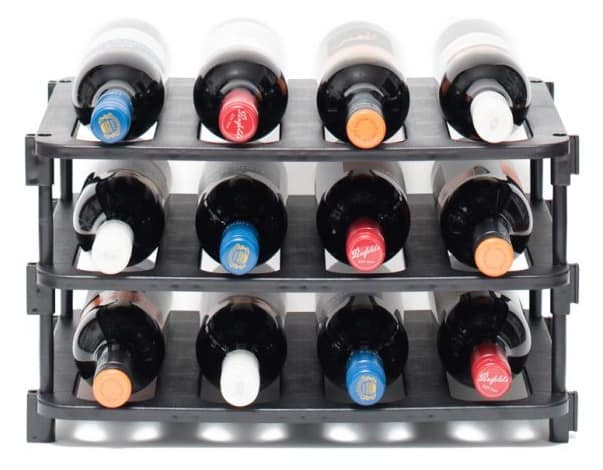 With the smallest base unit that stores 4 bottles, the Vinrac modular racks are functional and can be partitioned into small or large scalable modules for the home cellar, office storeroom, or commercial wineries.
The Vinrac kit has a number of applications, it can be used as a wine cabinet within a confined space, a complete cellar racking system that is fixed to a wall holding hundreds of bottles, or it can be used a simple storage unit in a wine bar.
Space saving, as it can be built using the base size starting as small as 432mm x 41mm (not including the bottles), perfect for those small little areas where nothing else fits.
Simplicity, as it takes just a couple of minutes to construct without the need for any tools, they simply slot together.
These modular racking systems are available in a number of sizes starting as small as a 24 bottle rack all the way up to a cellar racking design of 240 bottles. Where larger racking systems are required please forward your details to use and we will prepare a quotation.
Prefer to Do It Yourself?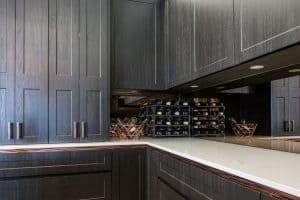 The Vinrac really is a Do It Yourself wine rack. The method for building, modifying or relocating our storage system can be done by following some very simple instructions.
When you combine the modular design of our wine cellar racks, along with the DIY simple to build method you have the ability to create your own designs that will suit your cellar, garage, shed, wine cabinet, under stairs, in a cupboard, storeroom, under a bench, mounted to a wall, or even your refrigerator.
Vinrac were designed in Australia, and are very easy to build, you don't need any tools, and they come in a variety of sizes.
Quick and Easy to Install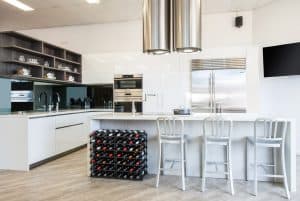 The Vinrac is designed for easy assembly. No tools are needed, it simply slots together.
Add extra racks horizontally and vertically to create the size and shape wine rack to suit your space.
Made from tough, environmentally friendly recycled ABS plastic, they are easily adaptable for use in a cupboard, wardrobe, under the stairs or to build a complete wine cellar.
When you are ready to expand your collection, extra racks can be added in seconds. All necessary parts are included with each pack.
wine racks for the home
Having a selection of good wines at home is an important part of a successful home dining and entertaining experience.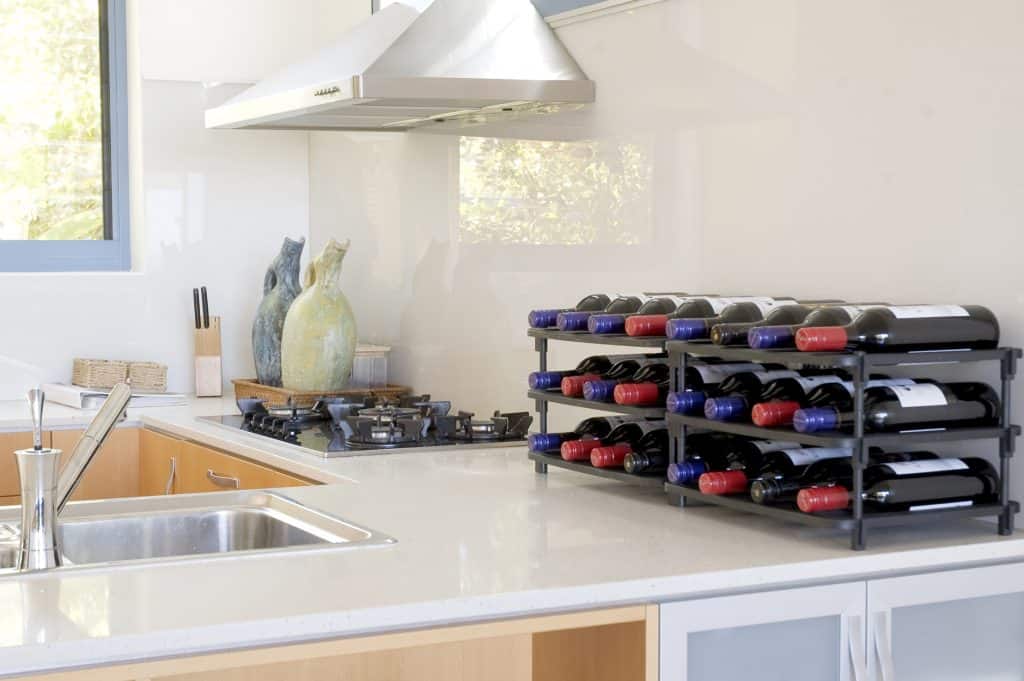 But you need to choose your wine racks to match your needs and available space.
Vinrac's vision was to create the best wine rack for home use; now we can share that vision with you.
Our design is so versatile it allows you to build your home wine racks to suit your needs.
Thanks to the small dimensions – a four bottle rack measures just 432 mm wide by 41 mm high—there are so many possibilities for a wine rack for your home bar.
Vinrac's compact size means you can put a wine rack in, on, or under:
Cupboards (including on top of cupboards)
Stairs—think of all that space under your stairs that is never used
Walls—brackets (available separately) give you so many more options for mounting your wall wine rack
Breakfast bars and benchtops—this may be an area you don't use much and could be the ideal solution for your home wine storage problems
Bookcases
Attics and basements
Perfect For Unused Space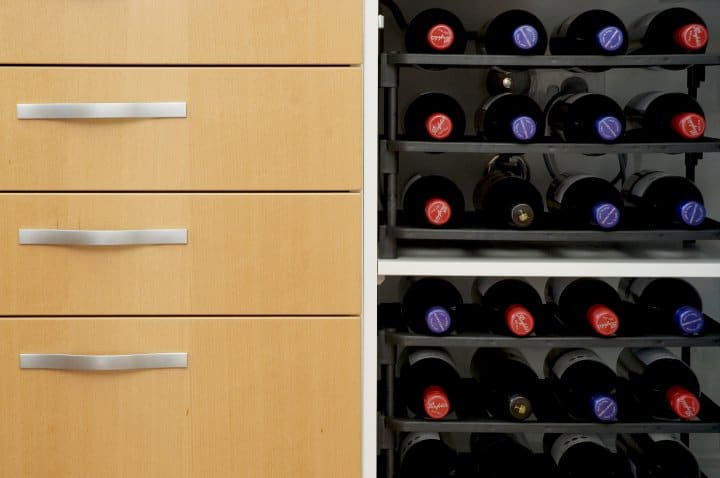 In fact, you're only limited by your imagination.
Look around your home and any dead, unused space could be transformed into an elegant wine storage area.
You may have a bookcase in a hallway that creates a dead space beside it—perfect for the Vinrac wine rack system.
It may be that there is an unused space in the wall area of the stairway to the basement that would make a great site for your home wine rack.
Sometimes older houses have wall cavities for the telephone or for connecting the kitchen to the dining room.
The Vinrac is perfect for such nooks and crannies.
cellar  wine racks
The thoughtfully designed cellar wine system will work with any of your wine storage ideas.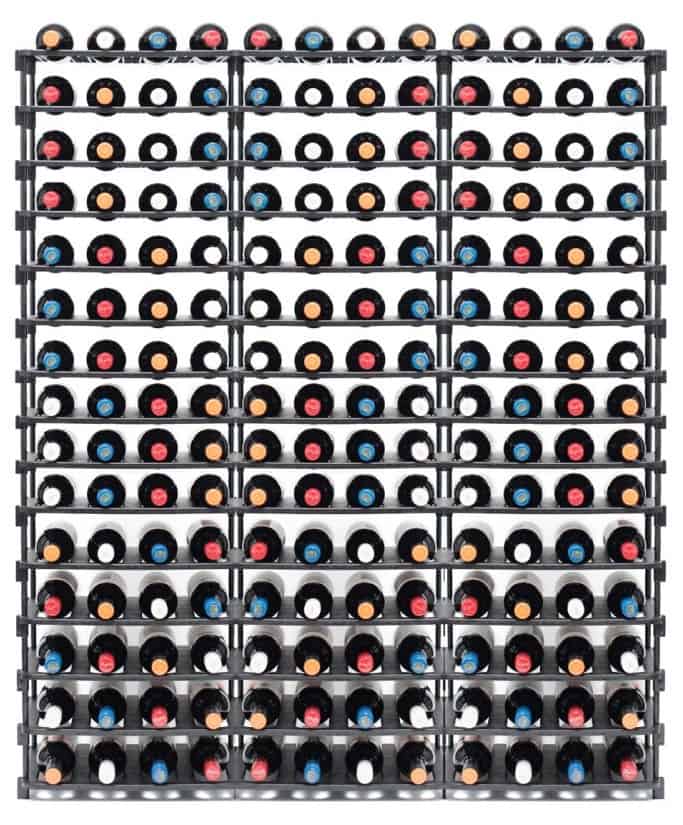 You have invested heavily in your valuable wine collection and you need wine storage racks that store your wine safely, take up minimal space, don't cost the earth yet still look elegant.
The Vinrac wine storage system is the ultimate solution for homes, cellars, restaurants, bars, and wine retailers. In fact, Vinrac is perfect for wherever you need larger capacity wine storage.
And you can design and build your wine storage cabinet to suit your requirements and an enormous array of available spaces.
Vinrac Cellar Wine Racks come in a variety of sizes so you can start your cellar wine storage with as few as 12 bottles then add more capacity as you require.
You can build vertical stacks to the ceiling and expand to the left or right and you can just add and adapt as your needs change.
You'll be amazed at where you can fit a Vinrac wine storage system.
If you want to design a storage system in your cellar that can store as little as 12 bottles, or as many as 100's of bottles, then our modular racking systems are perfect.
PLAN YOUR CELLAR STORAGE AREA
Work out an area in your home that would be suitable.
Remember to take into account temperature, access, sunlight and other important factors.
Calculate how many bottles this area may hold. To do this best, measure the area only to as high as you can reasonable reach and only include corners that are accessible.
Make sure the area selected has an even and strong flooring. Vibration interferes with aging and stirs up sediments so try to avoid storing in an area that has constant vibration
Attic areas are usually not suitable for this reason and also because the temperatures can be too high.
CALCULATE CELLAR FLOOR SPACE
To help you plan your wine storage rack you need to measure the total length of floor and the maximum height (the top should be within reasonably easy reach).
The following common wine rack dimensions will help you calculate the number of wine rack systems you will require; a 20 bottle rack is approximately 432mm wide x 449mm high, while for a 40 bottle rack you should allow approximately 856mm in width x 449mm in height. You can find out more on our wine rack dimensions page.
Currently available sizes are: 24, 36, 48, 60,120, 180, 240 but larger size packs are available on request.
All Vinrac Wine Racks should be braced once they exceed a one metre height, and we recommend a maximum height of 1.8 metres.
modular  wine racks
Vinrac appreciates that everyone's wine storage needs are different so we have designed a wine rack that really caters to your individual needs.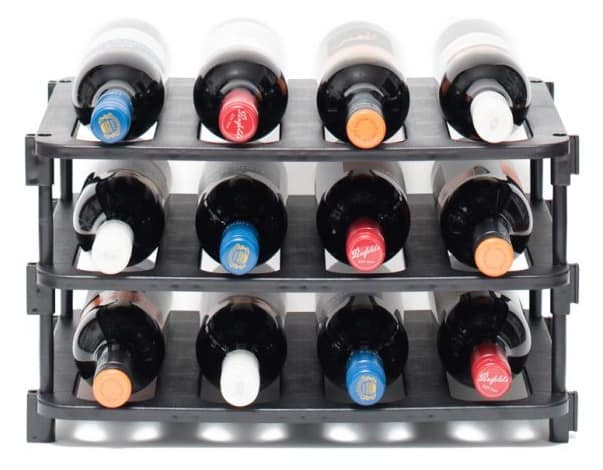 The design concept for our Modular rack kits is brilliantly simple and is built around basic modules that can be added to, combined or rearranged to suit any size or shape space whilst still maintaining great strength, functionality and a stylish appearance.
The smallest base unit stores 4 bottles of wine giving you the perfect freedom to design small or large, scalable wine storage modules for the home cellar, office storeroom, or commercial wineries.
We looked for some really important design features in our Vinrac modular wine rack including:
Flexibility of use- one of the key principles we looked for in designing the Vinrac modular wine rack. It's this flexibility that allows you to use it across multiple applications, as a wine cabinet within a confined space, a complete racking system that is fixed to a wall holding hundreds of bottles of wine, or as a simple wine storage unit in a wine bar.
Compact, space saving design. Save on valuable storage space; the basic module starts at 432mm x 41mm (not including the wine bottles) so it's perfect for those small little areas where nothing else fits.
Horizontal storage of your wine prevents the corks from drying out and the resulting loss of quality.
Simplicity – the Vinrac wine racks take just a couple of minutes to put together without the need for any tools, they simply slot together.
BOTTLE SIZEs
plastic WINE RACK BOTTLE SIZES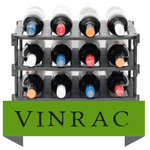 The Vinrac wine rack system is modular, allowing it to be built to fit the size and shape of your cellar or kitchen.
The Vinrac wine rack is available in a range of popular bottle sizes and its modular design provides a flexible easy solution for growing and expanding your wine collection.
BOTTLES SIZES INCLUDE:
You can make a Vinrac wine rack as large or small as you require. Each rack holds 4 bottles and extra racks can be added in seconds. For more information see our complete guide on Wine Bottle Size Chart.