WINE RACK SYSTEM CONSTRUCTION AND ASSEMBLY
The Vinrac Wine Rack system comes delivered in a box, with all the necessary components and accessories.
The great thing about the Vinrac system is that you won't be needing any additional tools or hardware to assemble it.
A single bottle tray holds four bottles which gives the wine rack dimensions width at 432mm and a height of 41mm.
Each additional bottle tray above increases the height of the wine rack by 102mm.
So if you are simply wanting a four bottle wine rack the dimensions would be 432mm x 41mm.
For an eight bottle rack the dimensions would be 856mm x 143mm.
For a twelve bottle rack the dimensions would be 1280mm x 245mm.
And for a sixteen bottle rack that would make it 1704mm x 347mm.
For full Wine Rack Construction information, you can either watch the video, follow the transcript of the video instructions below or Download our Instruction Document (PDF).
VIDEO TUTORIAL for wine rack assembly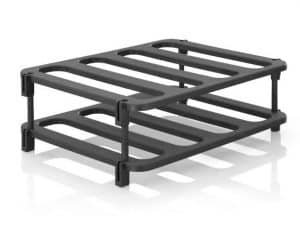 VIDEO TUTORIAL, TRANSCRIPT
In this video we're going to show you how to assemble the Vinrac Modular Wine Rack System.
Start with the bottle tray and insert four pegs, that's one in each corner. Take another tray and that simply slots on top of the four pegs.
As you're assembling it you will have to make sure that the tray end connectors are the same on both sides, and as you can see this part of the dovetail system is on one end, and then on the other end we don't have any dovetailing joints.
So just make sure that all ends are the same as you make your way up.
Now as you start to make your way up higher you simply take four more pegs, insert once again to all four corners, take another tray and pop that on top.
Now if you want to work to the side simply slide in the dovetail system and that's the whole thing joined together.
As you work your way up on this side, take another four pegs, another bottle tray and that simply slides into the dovetail system.
You can work to either side, as far as you want to go, to the left or to the right so that it fits into wherever you want to put your wine rack.
Whether it's in a wardrobe, kitchen bench, under the stairs or in a cellar underneath your house.
The wine rack is made from ADS plastic which is a rigid type of plastic and our materials are all made from recycled materials.
We have sourced the materials from the suppliers that gets it from wrecked cars, old computers, and old mobile phones.
Gather all the materials and they grind it all up and we mould it into these wine racks.
As you can see it's pretty easy to assemble. No tools required and you can put it together by hand.
Now if you do ever want to take it apart and move it, it comes apart just as easily as it goes together.
Simply pull it all apart and box it all up and send it off to your next home or move it to another room wherever you'd like your wine collection.
It can grow with your wine collection so start off with a fairly small amount of wine racks, you can always buy more later on to increase the size of your collection.
All of the system simply slots together, and there we have a sixty bottle wine rack which was all assembled in a few minutes that will hold five dozen bottles of wine.
Now to put your wine in simply slide them into the slots, and as you can see it will take quite a few different shapes of wine bottles and sizes.
And there you have it, you are well on your way to starting your wine collection.