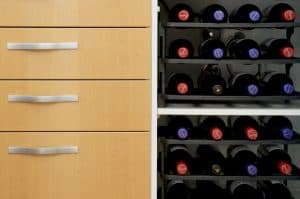 You have invested heavily in your valuable wine collection and you need wine storage racks that store your wine safely, take up minimal space, don't cost the earth yet still look elegant.
The Vinrac wine storage system is the ultimate solution for homes, cellars, restaurants, bars, and wine retailers. In fact, Vinrac is perfect for wherever you need larger capacity wine storage.
And you can design and build your wine storage cabinet to suit your requirements and an enormous array of available spaces.
Wine storage rack plans
The thoughtfully designed Vinrac modular wine system will work with any of your wine storage ideas. You can build vertical stacks to the ceiling and expand to the left or right and you can just add and adapt as your needs change.
You'll be amazed at where you can fit a Vinrac wine storage system.
To help you plan your wine storage rack you need to measure the total length of floor and the maximum height (the top should be within reasonably easy reach).
The following common wine rack dimensions will help you calculate the number of wine rack systems you will require; a 20 bottle rack is approximately 432mm wide x 449mm high, while for a 40 bottle rack you should allow approximately 856mm in width x 449mm in height. You can find out more on our wine rack dimensions page.
Currently available sizes are: 24, 36, 48, 60,120, 180, 240 but larger size packs are available on request.
All Vinrac Wine Racks should be braced once they exceed a one metre height, and we recommend a maximum height of 1.8 metres.
Look at these great features
This is what makes the Vinrac modular wine racks one of the best and least expensive wine racks available:
Flexible design allows you to adapt the wine rack to suit your needs for wine storage for large or small quantities of wine bottles.
Clever design safely cradles most bottle sizes including champagne bottles.
Prevents the corks from drying out and maintains your wine's superior qualities thanks to the horizontal storage of your wine.
Tough ABS plastic construction using recycled plastics—protects your valuable wine and the environment as well
And assembly is so easy!
Create a wine rack with real class today. They're just so easy to put together. You need:
No tools or fastenings (unless for wall mounting or for racks taller than 1 metre). Brackets for wall mounting are available separately
No special knowledge—anyone can put these together. You can have a 60 bottle wine rack up and ready to go in just a few minutes.
Sturdy moulded fittings simply slot into place snugly and firmly providing the rack with a tough hard-wearing structure. The modular nature allows you to add, adapt or rearrange your wine rack as your requirements change.
Simple step-by-step instructions are provided for building, modifying or relocating our wine racks.
See for yourself how simple and quick it is to build your very own wine rack system, click on the video and follow the simple instructions, and within minutes you have built your very own wine cellar.
Et voila –an elegant wine rack to meet the toughest requirements.