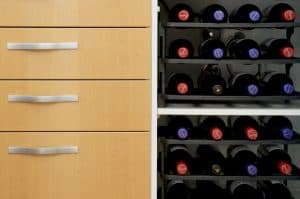 Cupboard wine racks offer the perfectly logical storage solution for your wine.
When space in your home is tight and you need a way to safely store your wine Vinrac has the answer.
The Vinrac small wine rack is designed to fit in those tight under-used and often disorganised spaces such as in or on top of cupboards, on benchtops, or under breakfast bars.
The Vinrac cupboard wine rack is at home anywhere; in the home kitchen or lounge or in commercial outlets and restaurants.
Cupboard wine racks – advantages
The Vinrac cupboard wine rack is ideal for busy homes or for special displays in restaurants or wine retailers.
Storing your wine in a Vinrac small wine rack on top of a cupboard keeps your wine safe and out of reach of playing children—perfect for those active homes where the lifespan of fragile objects can be measured in nanoseconds.
The Vinrac benchtop wine rack is great for commercial operations too as a flexible special display.
The Vinrac wine rack is so easy to adapt to any available space for changing display options. Its tough, smart appearance provides the perfect showcase for your wine.
Look at these impressive features:
Versatility — we wanted a wine rack that could be adapted to fit into any tight space and still look good. The Vinrac modular system allows you to create any size storage units from four bottles and up.
Compact, space saving design is perfect for storing your wine in those under used spaces such as benchtops, and in, on top of, or under cupboards.
Clever bottle cradle design caters for most bottle sizes including champagne bottles.
Horizontal storage of your wine prevents the corks from drying out and maintains your wine's superior qualities.
Our cupboard wine racks are made of durable ABS plastic from recycled sources so they're built to last and look after the environment as well.
Assembling your benchtop wine rack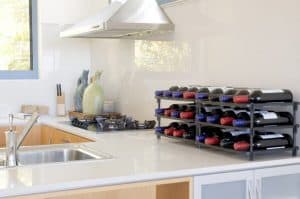 We know you'll love our clever little cupboard wine rack, so elegantly simple to assemble yet built to endure the toughest treatment.
Our wine racks feature straightforward DIY assembly instructions.
You can have your new wine rack ready to go in minutes.
You don't need any tools or special building skills and the modular nature means that you can add adapt or rearrange your wine rack any time you feel like it.
Moulded fittings simply allow the components to slot into place snugly and firmly.
It's free standing so no special fastenings are required and this means it's easily portable, you can move it any-time.