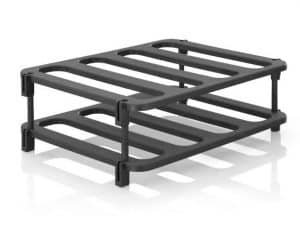 When space is at a premium you need to get yourself sorted with a Vinrac small wine rack.
You love sharing a glass of fine wine with your friends but those bottles take up precious space in the home.
You need a creative solution.
Vinrac comes to the party with its elegant mini wine rack specially designed to fit any small space around the home.
Now you can safely store and display your wine without sacrificing much-needed space.
The thoughtfully designed bottle holder slots can cradle most bottle sizes including champagne bottles.
Great Vinrac features
You'll be impressed by these stand out features:
Versatility — we designed the Vinrac modular wine rack to go anywhere. This flexibility allows you to adapt the wine rack to suit your needs for wine storage especially where available space is an important consideration. You can create any size storage units in multiples of four.
Compact, space saving design is perfect for storing large numbers of bottles without sacrificing critical space.
Clever bottle cradle design caters for most bottle sizes including champagne bottles.
Horizontal storage of your wine prevents the corks from drying out and maintains your wine's superior qualities.
Where can I put my small wine rack?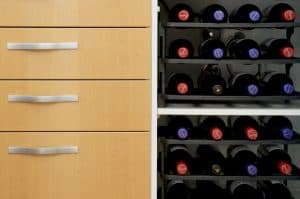 Versatility is one of the great features of the Vinrac small wine rack.
In the kitchen or dining room, on table tops, under the stairs or in pantry cupboards, it offers the perfect solution to store your wine safely and use those awkward wasted space areas.
The Vinrac mini wine rack is cleverly designed as a modular unit that holds four bottles of wine.
You can add additional modules to suit your requirements or as your needs change.
It is so easy to stack and rearrange the modules to fit any shaped space around the home.
The Vinrac mini wine stand can be configured to safely store from 12 to 60 bottles of wine and is perfect for the home or restaurant or for a special dedicated display for a wine retailer.
It makes a great display piece in the home too. Visitors will be fascinated by your wine collection lovingly displayed in the Vinrac small wine rack.
Is it easy to build or adapt the Vinrac wine rack?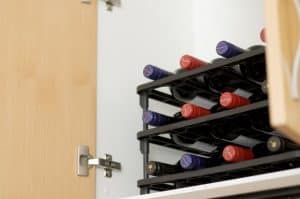 We are proud of our design, so elegantly simple yet imbued with a rugged strength that will safeguard your precious wine.
We designed our small space wine racks to be a truly simple take home and DIY kit.
No tools and no special building skills are required.
Easy to follow instructions are provided and the modular nature means that you can add adapt, or rearrange your wine rack any-time you feel like it.
You can have your new wine rack assembled and ready to go in minutes.
It's free standing so no special fastenings are required.
The Vinrac wine-rack is made of tough recycled ABS plastic built to last and it's environmentally friendly as well.
View some of the other Vinrac wine storage options for larger areas, mounting to a wall, under cupboards or under benchtops.