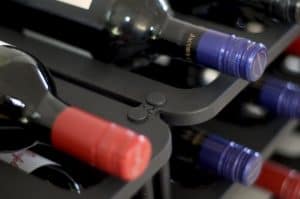 We appreciate that your wine storage needs are unique so we designed the Vinrac custom wine rack for you whether you need a small wine rack or a large wine display.
And the advantage is that you can adapt our custom size wine rack as your needs change.
The Vinrac custom wine rack is so versatile it's perfect for home owners, restaurants, bars, and wine retailers.
You need a custom size wine rack if you:
Have unused spaces such as cupboards, walls or cellars
Need an attractive benchtop wine display
Your needs and living space change frequently
Want a DIY portable modular kit-set wine display
How can I customise my wine display?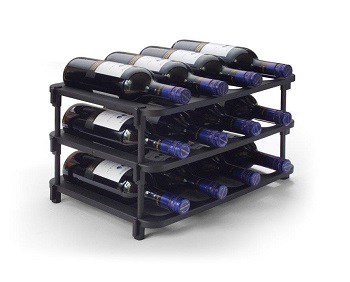 The Vinrac's small dimensions—a four bottle rack measures just 432 mm wide by 41 mm high…
…and its modular design give you so many possibilities to create the custom sized wine rack you require.
You can stack the racks on top of each other or expand sideways to the left or right.
You can vary the size of the stacks to fit in unusually shaped spaces such as under stairs.
You can mount the Vinrac on the walls or display on benchtops or on the top of cupboards.
It's only your own imagination that limits you.
From 12 bottle racks to 240 bottles plus (currently available sizes are: 24, 36, 48, 60,120, 180, 240) Vinrac gives you the keys to build your own wine rack design.
And as your needs to change you can expand and adapt your custom wine display.
And other great features…?
We believe the Vinrac modular wine racks are one of the best and least expensive wine racks available. Here's why:
Versatile—its flexible design allows you to adapt the wine rack to suit your needs for wine storage for large or small quantities of wine bottles.
Clever bottle cradle design caters for most bottle sizes including champagne bottles.
Horizontal storage of your wine prevents the corks from drying out and maintains your wine's superior qualities.
Tough ABS plastic construction using recycled plastics—Vinrac won't let you (or your valuable bottles of wine) down plus we're doing our bit for the environment as well
But I'm not really a DIY person…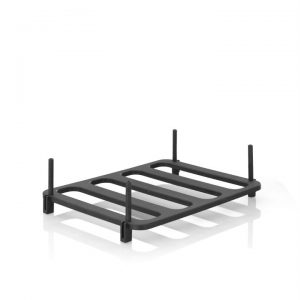 Our clever design makes assembly so simple. You don't need any tools or specialist knowledge.
If you do want to mount the rack on the wall it's easy to secure the rack with brackets (available separately).
Moulded fittings simply allow the components to slot into place snugly and firmly allowing you to build your racks on top of each other or expand to the left or right.
The modular nature means that you can add adapt or rearrange your wine rack any time you feel like it.
It's free standing and this means you can move it any time you wish.
And if you are moving house it's easy to dismantle and put back in the box ready for installation in your new home.