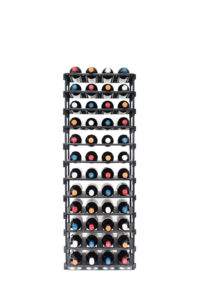 The Vinrac wine rack is designed for easy assembly. No tools are needed, it simply slots together. Add extra racks horizontally and vertically to create the size and shape wine rack to suit your space.
Made from tough, environmentally friendly recycled ABS plastic, Vinrac wine racks are easily adaptable for use in a cupboard, wardrobe, under the stairs or to build a complete wine cellar.
When you are ready to expand your wine collection, extra racks can be added in seconds. All necessary parts are included with each pack.
Please click a link below to learn more about Installing a Vinrac Wine Rack system: